EVERETT, Wash., March 26, 2022 – According to Snohomish County records, a person named Richard James Rotter was arrested for the murder of Everett Police Officer Dan Rocha.
Rotter led a two-and-a-half-mile chase hitting multiple vehicles in an attempt to elude police. He was eventually apprehended at 35th and Rucker in Everett fifteen minutes following the brutal slaying of Officer Rocha.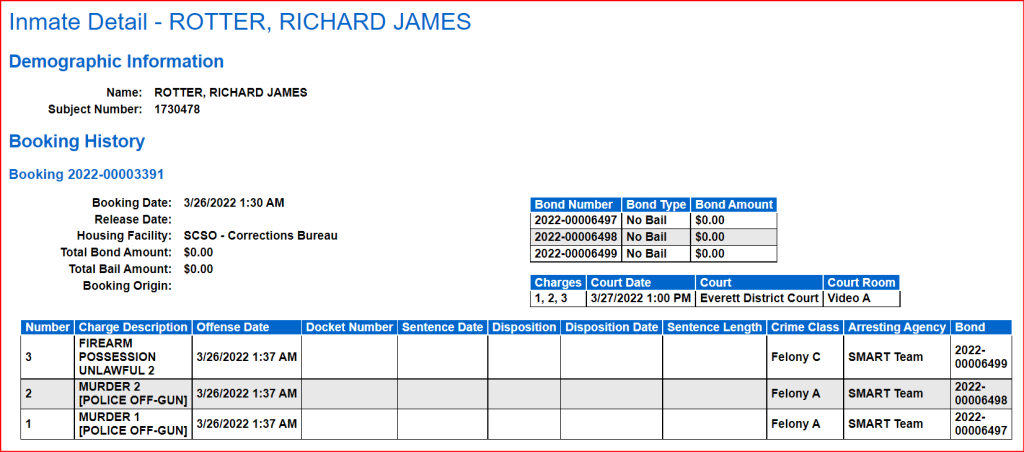 Rotter has a long criminal history dating back to at least 2004 and is now facing additional charges of unlawful possession of a firearm, Murder 1 [Police Officer – Gun] and Murder 2 [Police Officer-Gun]. No bail has been set and is currently facing a life sentence in prison if convicted. The court date is set for 1 p.m., Sunday, March 27, 2022.
Below is some of Rotter's extensive criminal history dating back to at least 2004:
Driving with suspended license 3rd Degree, 2004, Yakima
False statement to public servant, 2004, Benton
Marijuana possession, 2007, Ritzville
Malicious Mischief-3, 2008, Benton
Violation of court order, 2009, Benton
Domestic Violence Assault, 2009, Benton
Bail Jumping, 2009, Benton
Reckless Driving, 2009, Benton
False Reporting 2nd Degree, 2010, Benton
Resisting Arrest, 2010, Benton
DUI, 2010, Benton
Obstructing Public Servant, 2010, Benton
Driving with suspended license 3rd Degree, 2010, Benton
Reckless Driving, 2010, Benton
Possession of Control Substance, 2010, Benton
Possession of Control Substance, 2012, Franklin
Driving with suspended license 1st Degree, 2012, Benton
Possession of Control Substance, 2012, Benton
Bail Jumping, 2013, Benton
Attempt to Elude Police Vehicle, 2013, Franklin
Hit and Run Attended Vehicle, 2019, Benton
Driving with suspended license 1st Degree, 2019, Benton
According to a Facebook page with the same name and picture of James Rotter, it states that he got married in March of 2021 and has links to various substance recovery groups and pages.
Back in 2016, Rotter led Kennewick police on a wild and dangerous vehicle chase just after midnight the morning of Friday, February 26. He sped southbound on Washington street without using his headlights. Rotter was wanted for several outstanding warrants at the time.
On March 17, 2019, Rotter was apprehended by a Franklin County Deputy after attempting to elude the officer. During his arrest, the officer discovered that Rotter was wanted by the Washington State Department of Corrections and the US Marshal Pacific Northwest Violent Offender Task Force for an escape warrant from Community Custody for the possession of controlled substances. During his initial arrest attempt a week earlier, he struck the vehicle driven by one of the Task Force members.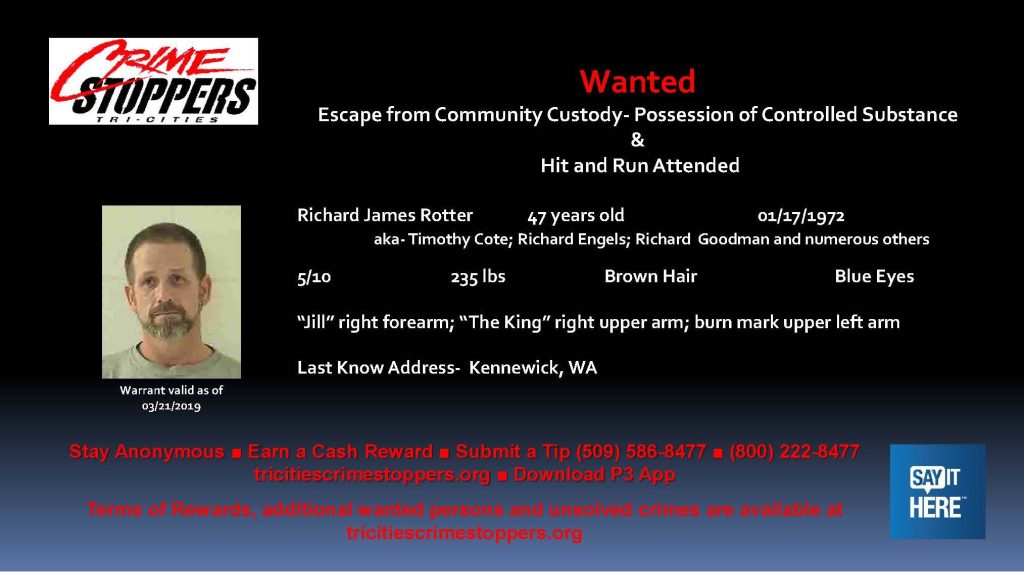 Mario Lotmore
Mario Lotmore is originally from The Bahamas and for the last seven years has called Mukilteo, WA his home. Having lived in every region of the United States has exposed him to various cultures, people, and approaches to life. Lotmore created the Lynnwood Times to represent the character of a diverse and growing Lynnwood. The launching of the city's community newspaper will only help bring neighborhoods together. Lotmore was an industrial engineer by trade and proven success implementing and managing lean accountable processes and policies within his eighteen years of operations excellence, strategic development, and project management in the aerospace, manufacturing, and banking industries. Over his career he has saved and created hundreds of union and non-union jobs. Lotmore is the President of a Homeowner Association, an active Science Technology Engineering and Mathematics volunteer in his community, and former Boeing 747 Diversity Council leader. Mario's talent is finding "that recipe" of shared destiny to effectively improve the quality of life for others.
Mario Lotmore has 1149 posts and counting. See all posts by Mario Lotmore