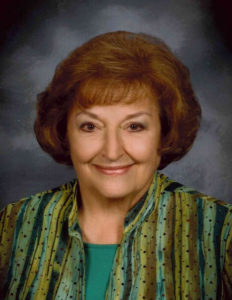 Margery Allen Turnipseed, 89, of Statesville, N.C., passed away on Thursday, September 22, 2022, at the Gordon Hospice House.
Born in Gulfport, Miss., on March 7, 1933, Margery was the oldest child of Rev. William Carey Allen and Louise Woleben Allen and was raised in New Orleans, La.; Gainesville, Fla.; and Fort Worth, Texas, where she would study commercial art and marry Robert E. Turnipseed Jr. in 1952 during his service in the United States Air Force. Together they had five children.
They moved to Statesville in 1955 and joined First Baptist Church, where Margery was active in various capacities, including as Girls Auxiliary Director, Girl Scout Leader, as well as a featured soloist and member of the bell and sanctuary choirs. A prominent figure in Statesville's business community and the Greater Statesville Chamber of Commerce, Margery also served her community through her 27 years on the City of Statesville's Board of Adjustments, and engagements with the National Association of Realtors, the North Carolina Association of Realtors, and the Iredell Country Association of Realtors while President, Broker-in-Charge and co-owner of Coldwell Banker-Landmark Associate Ltd.
As President and Chair of the North Carolina Heart Association, Margery was awarded the Albert McClure Humanitarian Award for fundraising. She also served on the Board of Yokefellow Ministries and was a member of the Salvation Army Advisory Board.
Margery was a talented musician and artist and dedicated many years of her life to promoting local art and area artists throughout her six terms as President of the Artist Guild of Statesville, and tenure as Vice President of the Iredell Arts Council and Chair of the Iredell County Art Task Force. She studied with local artists Frans Van Bergen and John Brady and was instrumental in the launch of the AGS Gallery in Signal Hill Mall. Margery's artwork was featured at the Benton Convention Center in Winston-Salem, the Asheville Museum of Art, and Statesville's Arts and Science Museum. Margery was also a member of the Hickory Choral Society for 25 years and performed around the country, including at Lincoln Center in New York City. She sang with the choir of Statesville's First Baptist Church for 50 years and performed another seven years in the choir and bell choir of the First Presbyterian Church of Statesville.
Margery will be remembered for her passion for gardening and love of animals. Many cats and dogs were welcomed into her home, and she also cared for feral cats around her neighborhood.
She was predeceased by her parents, sister Ruth Steger, and brothers William Carey Allen Jr., Dean Allen, and Clark Allen, as well as her son-in-law Neal Hatcher. She is survived by her husband and Tucker the cat; her children, Debbie Hatcher, Daniel Turnipseed (Helen), Donna Monzel (Bill), Dr. Samuel Turnipseed (Kim), and Dr. Andrew Turnipseed (Sherri); her eight grandchildren, Nick Hatcher (Emily), Suzanne Hatcher, Jacob Monzel (Rose), Daniel Monzel, Keaton Turnipseed, Bryce Turnipseed, Matthew Turnipseed, and David Turnipseed; and two great-grandchildren, Claire and Lucas Hatcher.
Also surviving are her two sisters, Amy Baldwin (Miles) and Fannie King (Bob – deceased); and her brothers- and sister-in-laws, the Rev. Lonnie Turnipseed (Ibby) and Martha Berrier (Ron), as well as numerous nieces and nephews.
Per Margery's wishes, the family will hold a private memorial. In lieu of flowers, memorial donations can be made to: PETA, P.O. Box 96684, Washington, DC 20090-6684 or Ruff Love Rescue, P.O. Box 2013, Thomasville, NC 27316 or Second Harvest Food Bank, 3655 Reed Street, Winston-Salem, NC 2707-5428.
Online condolence may be made to the family at www.troutmanfuneralhome.com.
Troutman Funeral Home is serving the family.