20 September 2022
From Mass Communication Specialist 2nd Class Askia Collins, Commander, Task Force 70 / Carrier Strike Group 5
PHILIPPINE SEA – Commander, Carrier Strike Group (CSG) 5 hosted seven liaison officers (LNO) from Japan Maritime Self-Defense Force (JMSDF), aboard the U.S. Navy's only forward-deployed aircraft carrier, USS Ronald Reagan (CVN 76), while JMSDF destroyer JS Amagiri (DD 154) operated in company with the strike group from Sept. 12-17.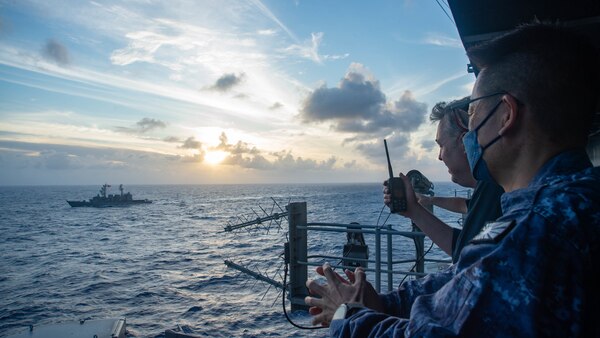 The embarked LNOs participated in watch standing and observing various ship's evolutions during their time aboard Reagan, directly supporting the Sea Combat Commander (SCC) role as part of the strike group operations led by Destroyer Squadron (DESRON) 15. SCC is responsible for defending the aircraft carrier from surface and sub-surface opposed units, as well as planning and executing offensive strikes. The JMSDF officers coordinated a formation exercise, joint integration anti-submarine warfare exercise and tactics in an integrated environment.
"It's an honor to work with Commodore Horikawa Yuji and his staff from Escort Division 1" said Capt. Justin Harts, deputy commodore, DESRON 15 and embarked sea combat commander. "We are working hard to refine our interoperability with the JMSDF onboard the USS Ronald Reagan. While the JMSDF have been working continuously with DESRON 15/Commander Task Force (CTF) 71 as the theater surface warfare commander, COVID prevented regular embarkations of the forward deployed aircraft carrier and Sea Combat Commander training. Now that the rules allow for more regular training with our allies and partners, we are very excited to have our Japanese shipmates rejoin us as we share our commitment to a free and open Indo-Pacific Region."
The U.S. Navy and JMSDF regularly host personnel from the other's ships in order to strengthen ties between the two partner navies. While the LNOs gained insight into carrier operations, JMSDF Asagiri-class destroyer JS Amagiri operated as an integrated unit within the strike group, conducting anti-submarine warfare exercises, formation sailing, and tactics training.
"I am very honored to train with CSG 5," said Capt. Horikawa Yuji, commander, Escort Division (CCD) 1, JMSDF. "I believe this exercise was effective and it deepens our cooperation and interoperability. I hope this exercise will enhance force deployment and combined operational capabilities between JMSDF and USN in order for a free and open Indo-Pacific, that contributes to support stability in the Indo-Pacific region."
On Sept. 17, USS Ronald Reagan and Amagiri operations together concluded with a group sail in the Philippine Sea.
This LNO exchange has been part of a long series of bi-lateral training conducted between the U.S. Navy and JMSDF throughout 2022.
Earlier this year, CSG 5 and JMSDF made progress in expanding collective warfighting capabilities through routine exercises and exchanges. In April, CSG 5 and JMSDF Information Warfare (IW) teams conducted a conference aboard Ronald Reagan where they spoke face to face on topics relevant to information warfare.
In May, units from CSG 5 and JMSDF conducted group sail exercises as well as a cross-deck helicopter exercise involving a JMSDF helicopter.
Also in May, another group of JMSDF LNOs embarked aboard Ronald Reagan where they observed U.S. Navy firefighting and damage control practices during general quarters, flight operations, and watch standing and navigation practices.
In August, the strike group hosted flag talks aboard the Reagan with their counterparts from JMSDF Fleet Escort Force to discuss maritime strategy and best practices for force operation and bi-lateral integration at sea. These efforts have led to recent operations with JMSDF destroyers JS Ohnami (DD 111) and JS Yamagiri (DD 152) in August, and now most recently with Amagiri and the visiting LNOs this month.
The U.S. and Japanese maritime forces have been partnered in the Indo-Pacific for more than 60 years.
U.S. 7th Fleet exercises operational control of its units through designated task forces or task groups. These groups are organized along domain and functional lines. CTF 70 is theater strike warfare commander and theater air and missile defense commander.
CTF 70 is forward-deployed to the U.S. 7th Fleet area of operations in support of a free and open Indo-Pacific. U.S. 7th Fleet is the largest forward-deployed fleet in the world, and with the help of and network of alliances and partners from 35 other maritime nations, the U.S. Navy has operated in the Indo-Pacific region for more than 70 years; providing credible, ready forces to help preserve peace and prevent conflict.