The 2022 Presidents Cup has arrived. After a long year of player-league alignment controversies, roster sorting by the captains and chatter about what to do to spice this event up in the future, there is actually golf to be played. While many are predicting a United States blowout, the magic of team golf at this level is that it almost always feels closer than it is for longer than it should.
That wasn't the case in 2017 when the U.S. side absolutely waxed the International team, but hopefully, with an amalgamation of big hitters, young stars and an us-against-the-world attitude, we get a Presidents Cup that's at least interesting through most of Sunday's singles matches. If you're looking for where the event could turn, you don't need to look past the first day. The U.S. has owned the International side in foursome matches over the last 15 years, doing the majority of their damage within this particular format. If that happens again — there's no reason to believe it won't — the red, white and blue will likely be off to the races.
2022 Presidents Cup scores, results
Day 1 — Foursomes
1

Patrick Cantlay & Xander Schauffele

6&5

Adam Scott & Hideki Matsuyama

2

Jordan Spieth & Justin Thomas

2&1

Corey Conners & Sungjae Im

3

Cameron Young & Collin Morikawa

1 UP thru 16

K.H. Lee & Tom Kim

4

Sam Burns & Scottie Scheffler

1 UP thru 15

Cameron Davis & Si Woo Kim

5
Tony Finau & Max Homa

TIED thru 15
Mito Pereira & Taylor Pendrith

CBS Sports will be with you the entire way updating this story with the latest from the first day of the Presidents Cup. Keep it locked here for live scores, updates and highlights.
See New Posts
Pinned
Pinned
Pinned
Spieth and Thomas claim 2&1 victory
The best buds win another as they both remain undefeated in Presidents Cup foursomes. It was the par-4 15th which ultimately proved to be a the difference as it looked as if the match would be tied, yet instead the Americans left the green 2 UP. It is another big blow for the internationals, but there is still a chance to flip some late points as all three matches on the course are within one.
Pinned
JT stays thriving
I'm not sure we're appreciating how good Justin Thomas has been at Presidents Cups and Ryder Cups. With his win with Jordan Spieth over Sungjae Im and Corey Conners today he moved to 11-2-3 in alternate shot and four ball matches in those two events.
Pinned
Pinned
Pinned
Pinned
Pinned
Pinned
This is unbelievable.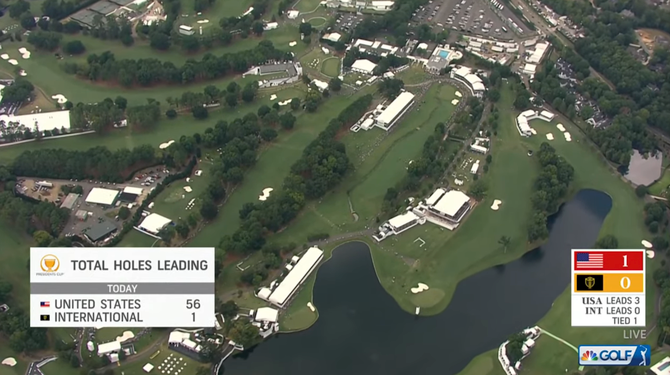 Pinned
Pinned
Pinned
Internationals in trouble
Caesar's moved the live line to USA -2500, and Data Golf has bumped the U.S. chances of winning to nearly 90%. Both of these notes are a bit incredible considering the fact that the U.S. is only leading 1-0 in a 30-point competition.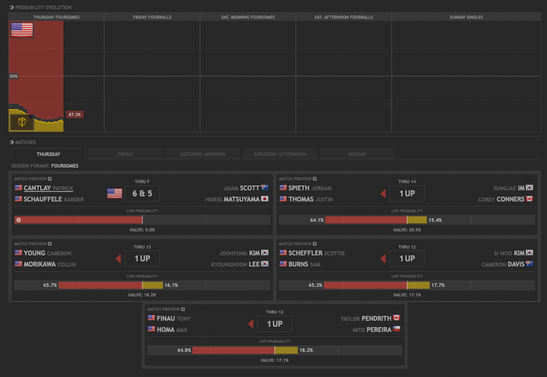 Pinned
Pinned
Pinned
Pinned
Burns and Scheffler get some breathing room
It has been an up-and-down day for the two friends and after a birdie on the par-4 13th, they are now 2 UP. The fact they are struggling and still command such a lead just goes to show you the quality of Sam Burns and Scottie Scheffler who combined for seven PGA Tour victories in the 2021-22 season.
Pinned
Pinned
The Cantlay/Schauffele staple
I tweeted during the 2019 Presidents Cup that Xander and Cantlay needed to be split because I thought they lacked energy and panache. I don't think they've lost since I hit send. They just went to 5-0-0 in alternate shot, although it's worth pointing out that they're 0-2-1 in four balls. Regardless, a horrific take by me.
Pinned
Schauffele and Cantlay win 6&5
The Zurich Classic winners improve to 5-0-0 in foursomes together with an easy victory over Adam Scott and Hideki Matsuyama. The two did not make a bogey — the only group to do so — and made it extremely difficult for their international counterparts to garner any momentum. Captain Love wanted this duo against the international veterans and it proved to be a wise decision.
Pinned
Dormie at the top
Cantlay and Schauffele are 5 up with five to go in their opening match over Hideki Matsuyama and Adam Scott, which is a complete disaster for the International side with two veterans getting smoked to kick off the event.
Pinned
Final four matches tightening up
It is easy to suggest the U.S. will cruise to a 5-0 lead, but the internationals have a pulse. With each of the final four matches being either 1 DN or 2 DN, there is an opportunity to flip a pair of those and hold onto life heading into tomorrow. The first match will wrap up momentarily as Xander Schauffele and Patrick Cantlay are 5 UP with five to play.
Pinned
Pinned
Pinned
South Koreans key to potential international comeback
Corey Conners and Sungjae Im have cut their match to 1 DN through 10 with Justin Thomas and Jordan Spieth. Behind them, Tom Kim and K.H. Lee are 2 DN through 9. These two matches are critical if the away underdogs want to have any chance come this time tomorrow.
Pinned
Pinned
Pinned
Pinned
Pinned
U.S. leads in all five matches as players head to back nine
Squandering an opportunity to square a match, the internationals find themselves down in all five matches. Matsuyama and Scott make their way to the inward half 3-down while the other four matches fall either 1-down or 2-down. They will need to somehow flip a pair of those by the time the day is over.
See More