Take some of the stress out of traveling by packing these cheap but necessary products.
Published on 9/22/2022 at 1:57 PM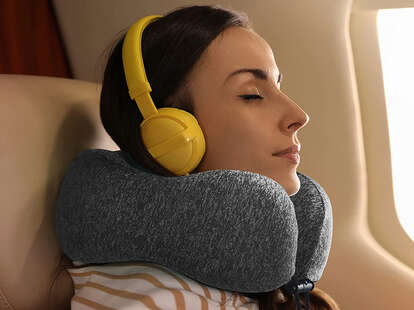 We independently source all of the awesome products and experiences that we feature on Thrillist. If you buy or book from the links on our site, we may receive an affiliate commission — which in turn supports our work.
It doesn't quite compare to going to the dentist or DMV, but as much as we all love to travel, the process of getting from point A to B can be rather stressful at times. It's why most major airports have places that offer massages—and why pretty much all airports sell alcohol. Still, many travel-related problems can be avoided if you pack the right products. We're not just talking about the basics like your phone and passport (though don't forget those, either!), but we'd also advise packing some of the less obvious things that will seriously make your trip so much easier. And no, these things don't even have to put a serious dent in your wallet.
If you're looking to save the big bucks for things like airfare, hotels, and gas money by getting your carry-on essentials on the cheap, don't worry because we've got you. Some of the most useful products we've seen are also the most reasonably priced, from a collapsible water bottle that keeps cold drinks cold to space-saving bags that allow you to pack up to 80% more stuff. If you're ready to change the way you travel (for the better), here are 15 highly rated travel accessories we love that cost less than $25.
Amazon
Keep cold drinks cold and hot drinks hot with this handy leakproof collapsible water bottle that was invented by a trio of Brooklyn dads tired of buying single-use plastics. Despite being able to hold 20 ounces, this bottle only measures 3.3 inches tall when collapsed. It's also dishwasher and microwave safe, so feel free to use it at home, too.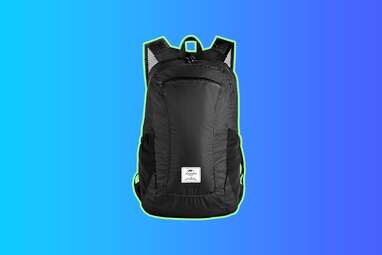 Amazon
Every savvy traveler should have an extra bag on hand for unexpected purchases. This water-resistant nylon backpack folds down to fit in a pouch no larger than the palm of your hand. When unfolded, it can fit things like a computer, clothes, and a pair of shoes. There's also an exterior pocket perfect for stashing snacks or other small items.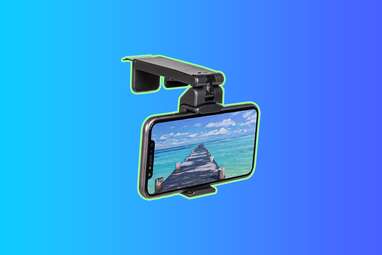 Amazon
Gone are the days of holding your phone in your hand for an entire flight. With this popular hands-free phone holder, it's easy to mount your mobile device onto the back of your tray table, so you can enjoy Netflix even if your plane doesn't have its own entertainment screens. The phone holder's dual joints provide 360 degrees of rotation so you can get just the right angle, and the holder fits any phone up to 3.75 inches wide.
Amazon
Whether you're bringing a bottle of wine home from your travels or packing a bottle of wine in your luggage as a host gift, these bottle protectors will keep the glass intact. A PVC exterior and air bubble cushioning mean no breaking and no leaking—for bottles of wine or anything else.
Amazon
Make country-hopping—or at least dealing with outlets while country-hopping—easier with this universal travel adapter. It works in more than 150 countries and features four USB ports, so you can charge multiple devices at once. Just note that it's not a voltage converter, so make sure you're working with the right wattage before plugging it in.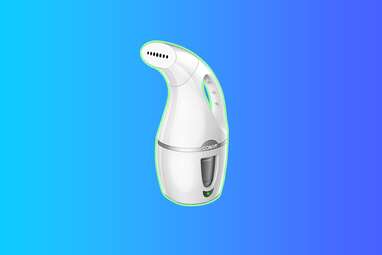 Amazon
Unless your wardrobe consists entirely of spandex, your clothes are going to get wrinkled while in transit. This best-selling handheld travel steamer from Conair is compact and weighs less than 5 ounces. It's TSA-approved, so it's easy to travel with—and with 1,100 watts of power, it offers up to 10 minutes of continuous steaming before you need to add more water.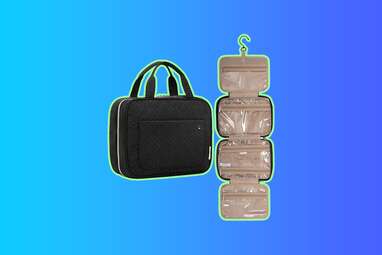 Amazon
There are a lot of great toiletry bags out there but only this one can claim to be Amazon's current bestseller in the category. The bag has four separate compartments and countless pockets to organize everything you might need. There's also a non-slip metal hook that allows for easy hanging, so the bag doesn't need to take up any precious counter space. And unlike many other toiletry bags, this one's interior pockets boast elastic straps that prevent bottles from tipping over. Choose from a few different sizes and several different colors.
Amazon
If you like using straws but don't like using wasteful disposable ones when youre traveling, these handy reusable straws have a telescoping design so they don't take up much space. They come with a convenient carrying case you can clip to your keychain to make things super simple, and they're made from stainless steel that's easy to keep clean with the included brush.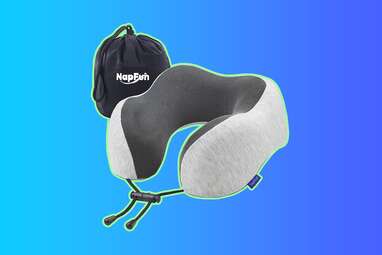 Amazon
Do neck pillows look a little silly? Maybe. Do they work? Definitely. This memory foam neck pillow offers just the right amount of support for airplane naps, whether you nod off with your head lolling to the side, front, or back. It comes in 12 colors and two sizes (small and medium). Its pillowcase is removable and washable, and the pillow itself compresses down to fit into a carrying case about a third of its size for easier transport.
Amazon
If you have a vaccination card, it can be handy to travel with—after all, you never know when you'll need to show proof that you've been jabbed. However, it can be nervewracking to take a flimsy paper card out into the world, where it might be torn, crumpled, or spilled on. This pack of clear vinyl card protectors will be a weight off your mind, since they'll protect your card from most unsavory fates. The card protectors even feature holes at the top, so you can attach them to lanyards to avoid another unsavory fate: losing your vaccination card altogether.
Amazon
You can't get noise canceling headphones for under $25, but you can get these memory foam blackout curtains for your eyes for around $20. The Mzoo contoured sleep mask has an impressive 4.7-star overall rating on Amazon from over 75,000 reviews, and for good reason. The strap is adjustable, so it fits any size head, and the mask is held together with a heat-bonded technology (so you don't have to worry about any annoying seams).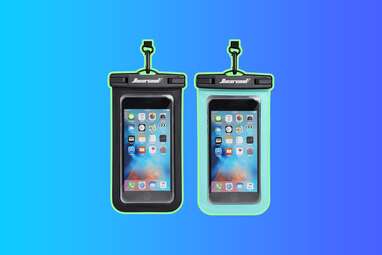 Amazon
Phones have been known to take a beating during vacation, especially if your destination involves copious amounts of H2O. But with this best-selling waterproof pouch (which has more than 67,000 reviews on Amazon and a 4.6-star rating overall), you can rest assured you won't fry your phone while taking photos during a snorkeling sesh. Not only does it keep the water out, it's also sandproof and scratch resistant. Pro tip if you do plan to use your phone underwater, though: set up your phone so you can use the volume buttons to take photos and video, since the touchscreen may not work once the phone is submerged.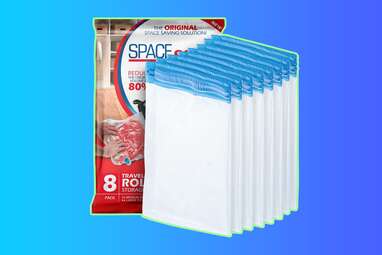 Amazon
Imagine how much more room you'd have in your suitcase if you could compress your clothes and get rid of any excess air. That's pretty much what these roll-up storage bags do. Simply pack, zip, and roll to squeeze out the air and give yourself up to 80% more storage space. There's no need to worry about leaks either; the bags have double-zipper seals.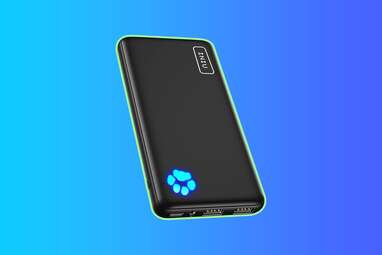 Amazon
A portable charger is a godsend when you're traveling and can't hang out near an outlet to charge your phone. With a 4.6-star rating overall after 46,000 reviews, this portable charger from Iniu is one of Amazon's most popular. It bills itself as the thinnest 10000mAh power bank on the market and claims it can bring an iPhone battery back to life (from 0% to 78%) in just an hour. Use it to charge Apple devices of all sizes, ranging from tiny AirPods to larger iPad Airs. Of course, it's also compatible with Android phones, too.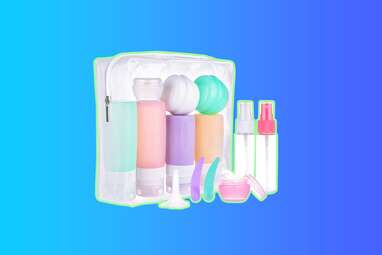 Amazon
Financially, it doesn't make sense to buy your favorite products in travel sizes. Instead, make a one-time investment in this best-selling refillable container set, and fill the containers from standard-sized bottles of product. All of the containers are TSA-approved, and they even come with a clear case (clearly an upgrade from the classic Ziploc bag). The set also includes a sheet of preprinted labels, so you never have to worry about accidentally conditioning your hair with body lotion again. 
%